by Jessica Khoury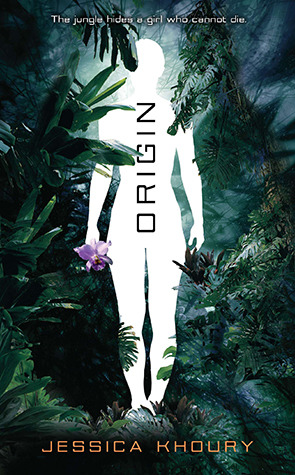 Genre: Science Fiction, Mystery
Notes: Teenage girl, First person POV, alone-ish, science, experiments, immortal, secrets, lies, scary, escape, danger, fast-paced, romance, coming-of-age, afterlife debate, religious (sort of), hmmm…
Series: 1/?
Movie: Rights bought…
Rating: 8/10
My Deduction: AWESOME!
Why: What a great surprise this book was. I am so glad I gave it a chance. Initially, the story sounded much too teenagery and Romeo and Juliet-esque to be worth my time. But the story delved deeper than hormonal longing and stolen kisses in the moonlight.
Pia is a science experiment. She is "perfect" because of some long process of injections and drugs and medicines and stuff like that that is explained in the book. The important thing is that she is the only current immortal in this super-secret, undercover science lab. The only teenager, the only immortal, the only "perfect" girl. She knows nothing about the outside world and is groomed to become a scientist in order to make more immortals.
So relatable theme number one is DEFIANCE. Pia is a very courageous and fierce main character, someone to emulate. Not because she is beautiful (in fact, her beauty is not mentioned all that often…) or indestructible, but because she is intelligent both typically (math, science, etc.) and complexly. She works up the nerve to question the authority she has obeyed for her entire life, she is determined to figure out the mystery behind her own world. Like all of us, she years for freedom.
But it makes me wonder…now that I know this is a series…will the freedom be too much for her? Will she regress? Will she regret her decisions?
It would only be human.
But is immortal Pia human?
…
I think so.
…
But you know who doesn't seem human? Pia's love interest, Eio.
Sorry but his character is just waaayyyy too obsessed with Pia. He can barely survive when she is, like, 200 feet away.
Then again…that incident with the anaconda proves his instinct to be legitimate…
But anyway, he barely knew her, barely saw her, and yet he gave her a necklace that said he owned her. What a jerk. Thinkin' he can just have rights to someone like that without telling them.
And besides, Pia only likes him for his body. And his eyes. We couldn't stop hearing about the dang eyes like the sky between the leaves of the banana palm or whatever. What did she really know about him?
Basically, Pia and Eio's relationship is built on superficiality and the attraction of opposites. I really don't have that much faith in this couple (if they existed in real life). Unfortunately, I have a feeling that even if they have some petty little fights in future books, they'll end up having half-wild little jungle babies and a pet panther or something. Ugh.
The good part of this book, though, is that it was more focused on Pia's inner struggles as well as her conflict with her own "family" at Little Cam (the facility of scientists that created her). Eio was just the happy meal toy that came with Pia's taste of the real world.
Ha. That's funny cause she doesn't even know what McDonald's is.
What I came away with most from Origin, though, are questions. And questioning. It's that forever-and a-day debate about religion. Do we live forever in heaven or purgatory? Or do we try to live forever on this earth with nothing to look forward to after we're buried in the dirt? It's obvious what Jessica Khoury thinks…but it makes you wonder. What do you think?
Do you dare to challenge what your creator's have taught you?
Do you allow yourself to wonder if everything they told you is a lie?
If you enjoyed this book, you should read: Across the Universe by Beth Revis